Regent's Spotlight Outfit: The Blazer and How to Wear It
Posted by on
If you could invest in one piece of clothing for the lifting of lockdown and the exciting, uncertain new world we're heading into, what would it be?
In the Red Corner: Regent firmly fighting the case of the beloved British blazer: artful, stylish, smart and insanely versatile. Here's why we're championing this timeless, subversive, beautiful garment.
It looks like things are finally getting better. We are (fingers firmly crossed) on the way out of lockdown for the last time, but we're coming back out into a new world, a changed world. It's for this reason that many people have been asking us what to invest in style-wise: people are after something that will keep them safe, strong and covered for a variety of events, a garment to meet the ending of lockdown and all the tribulations, celebrations – and trials – it might bring.
After giving it some thought, we've decided that the blazer embodies the spirit of these new times, and we wanted to say a few words about why.
The blazer is, first and foremost, a hybrid, a middle way, a flexible and versatile beast. Smarter than a jacket, less formal than a suit, it's disarming, quirky (in a timeless, robust way – the same way a David Bowie song or a Wes Anderson film is quirky) but has its roots deep in tradition.
It's for these reasons we think it's the go-to garment for getting out of lockdown: you can wear it to and for everything, everywhere, everyone. From job interviews to making an impression back in the office; first dates or celebratory meals out with loved ones; parties, soirees, picnics, summer ambles and weekends away, the blazer's got your back.
What Exactly Is a Blazer?
A blazer is a type of jacket most often cut to about crotch length, which has a double breast and/or lapels, a three-button cuff, a one or two button fastening that starts around the midriff, and is tailored in navy blue with brushed metal buttons.
Now, of course, what we love about the blazer is all the different things it's gone on to do: think stripes, flecks, dogstooth, linen, etc, etc. But the kind of 'essence' of the blazer can be found in a smart, navy or midnight blue number, because it's this colouring that renders the blazer so versatile, for both what it's worn with and for what it's worn for.
A brief look at its history gives a clue as to the blazer's unplaceable and unique style.
The exact origins of the blazer are a little contested, but expert consensus has whittled it down to a couple of the most likely sources.
The first is a sound one: in Jack Carlson's Rowing blazers we learnt that blazers were designed to be worn by rowers at Oxford and Cambridge as a form of windbreaker that'd still keep them smart and presentable in between races, training and warm-ups.
There's a key here to something of the blazer's distinct style: it has a kind of practicality about it whilst remaining rigorously smart, and this is why it's championed by so many on-the-go gentlemen who, when at all in doubt about what to wear for an occasion the exact formality of which is uncertain, turn to the blazer. You can't overdo it or underdo it in a blazer, that's the beauty.
Another origin dates back as far as 1837, when the Captain of the HMS blazer elected to dress his crew in navy blue blazers to welcome Queen Victoria aboard their ship. Again, we get the sense that the blazer was a hybrid, fit for royalty, yet able to be worn by practical serving crew.
But this wonderful garment has gone on quite the journey since then. From school uniforms to mods and rockers like the Stones, the Kinks and The Who, the blazer has enjoyed continuous revivals and revolutions, being adopted by people of wildly different politics and outlooks. All of which to say: it's a garment that's open, welcoming, ready to be worn how you want it, and ready to say what you need it say.
Think of The Who, taking the blazer to its mod-dish extremes. Think of ACDC, rocking out in school blazers. Think of Richard Gere in American Gigolo - that was a real moment when blazers officially re-entered the public sartorial imagination in a big way.
The beauty of the blazer it that can be worn on so many different occasions, but we'd say there's one thing it always brings to the party, and that's a sense of care. You could call it an affable formality.
It's a sense you get upon meeting someone that they're not out to intimidate or impress, necessarily – as it sometimes feel with a suit – but that they've made an effort: that for them, everyday smartness is an importance, an easy but necessary way of showing respect for yourself and others.
We'd say that blazers particularly come into their own for those events where the formality is uncertain. Job interviews are a good example. Dinner parties, dates or evenings out are others. They're also excellent at relaxed but special occasions like day parties and family/friend gatherings.
Blazers really come in to their element at weddings, and part of the reason for this is that they work so well with waistcoats. The contrast a blazer offers a waistcoat is a match made in heaven: something like a rugged tweed waistcoat with a blazer over the top gives the perfect melange of edge and formality.
Finally, they're particularly perfect in last-minute panics: if you don't know the person you're meeting – a client say, or a group of new friends – a blazer, thanks to its ability to never to be too formal, nor too casual, always has you covered.
The thing that defines the blazer is the fact that it doesn't have accompanying trousers, meaning it leaves your outfit open to a wide range of possibilities.
Our top tip trouser-wise would be to pair a blazer with chinos. Whilst jeans and a blazer can look good in the right hands, a pair of blue denim jeans generally tends to push the blazer's informality a little too far, coming to make it seem too formal on the top, and too casual on the bottom.
The perfect balance is struck with a pair of chinos, the cut and simpler silhouette of which let the blazer breathe and do its work. If you do want to pair a blazer with jeans, we recommend going for an un-structured blazer, such as a Vetra-style garment. The reduced formality here suits the jeans better.
You can't go wrong with a white, Oxford-style twill button down shirtunder a blazer. We recommend having a tie with you in your bag if it's a work-related or client call, so you can pop it on upon arriving if in doubt of under-dressing.
A blazer can be nicely paired with a jumper providing that it's lightweight – a V-Neck or Crew-Neck in something like cashmere should do the trick.
Finally, shoes-wise, a boat shoe or a loafer finishes off a blazer outfit perfectly, and nods to its nautical origins. Shoes can cement the casual aspect of the smart-casual look, so you can have a bit of fun here – sometimes even a pair of smart trainers can look great with a blazer.
This outfit – blazer, white shirt, chinos, shoes of your choice – can be worn anywhere: weddings, regattas, Wimbledon, picnics and parties. It's this outfit we'd put our money on to meet the end of lockdown in style. Uncertain but promising times call for a garment that's flexible but rock-solid, timeless and traditional, experienced but up for anything. Get ready to blaze the trail.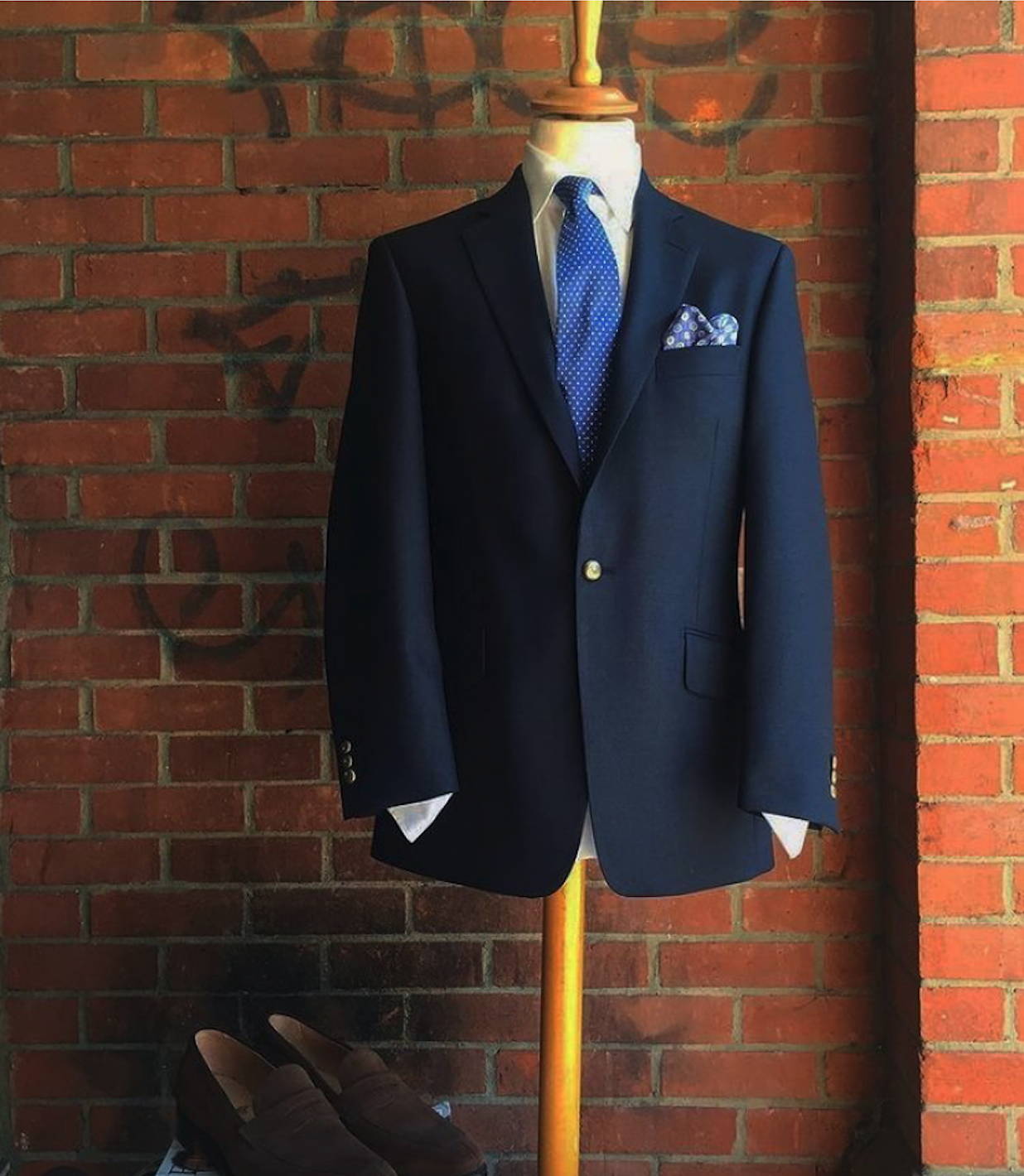 If you have any questions about the outfits mentioned in this blog, or you want to find out more about how, when and where to wear a blazer, get in touch with us using the contact form below.
We're passionate about our Customer Service and helping you find the right style for us. Please feel free to get in touch if you've got any personal styling queries, questions or conundrums. From weddings to mid-life clothing crises, we're here to help.
---