Regent offers a semi-bespoke tailoring service: frequently referred to as 'made-to-measure', semi-bespoke yields results that are just as good as a fully bespoke tailor, but at a fraction of the cost and with far fewer fittings once the customer's measurements have been taken.

The term bespoke is age-old. In the nineteenth-century, it referred to the cloth that had been selected, or 'spoken for', by a client from his-or-her tailor. Over time, the meaning of the word has been expanded and diluted. It can now be misleading: some tailors will claim to offer a bespoke service when the only thing they change on the suit is the fabric, or make minor alterations to the sleeve or jacket length.

At Regent, we call ourselves semi-bespoke because all of our patterns are individually cut for each customer. For customer appraisals of our suits, see our testimonials page. If you'd like to book an appointment, talk to us about what we do, or grab some advice, please email us at suits@regenttailoring.co.uk, call the shop on 01722 335151, or stop by at any time, Monday to Saturday, between 9:30am – 6pm.

Below, you'll find information on the semi-bespoke process here at Regent, as well as professional advice on suit care, tailoring tips and tailoring options.
Regent can travel to provide you with bespoke services: we've visited homes, offices, estates, military messes, organizations and events. Our visiting tailoring service is by appointment only. If you would like to discuss our travelling bespoke service, please contact us via the addresses above. Please include a brief description of the services you require, as well as your location and contact details. We will get back to you as soon as possible.

It's always worth checking out our
Events
page to see if we're already visiting a place near you soon.
Our semi-bespoke tailoring service is typically completed in two or three appointments over five to seven weeks. On the first appointment, we measure customers and open a dialogue about design requirements. This will include choosing the fabrics, linings and other basic aspects of the suit. This appointment typically lasts two hours. A deposit for the suit is requested at this stage. It is important that customers contact us in advance of their planned visit to ensure we have sufficient time to take measurements and go through the available options. We are fairly flexible on weekdays, and can sometimes arrange evening and weekend appointments, as needed and subject to availability. Between five and seven weeks after their initial appointment, customers have their second fitting. At this stage, the suit is almost complete, but minor adjustments to ensure a comfortable and pleasing fit can be made. A week later, the suit will be finished and ready for collection. At this point, the final bill is settled.

See
here
for our list of prices. We can provide our semi-bespoke services for customers who'd like to provide their own cloth, too.
A well-cut suit says a lot about the person wearing it. It is important for any tailored garment to have a fine cloth and finish, but it is the fit that truly defines a great suit:whilst some people get lucky in finding ready-to-wear suits that fit them, the majority find it worthwhile investing in a bespoke suit or jacket.

The Regent bespoke service incorporates our access to the highest quality materials, our expertise and knowledge of tailoring tradition, as well as our contemporary savoir-faire and ability, to create something that truly suits the individual. With over a decade of experience in tailoring, Regent prides itself on maintaining simplicity with exceptional attention to detail. Whether it is a two or three-piece suit, a tweed jacket or formal shirt, we always aim to create something that reflects our customer's personal style.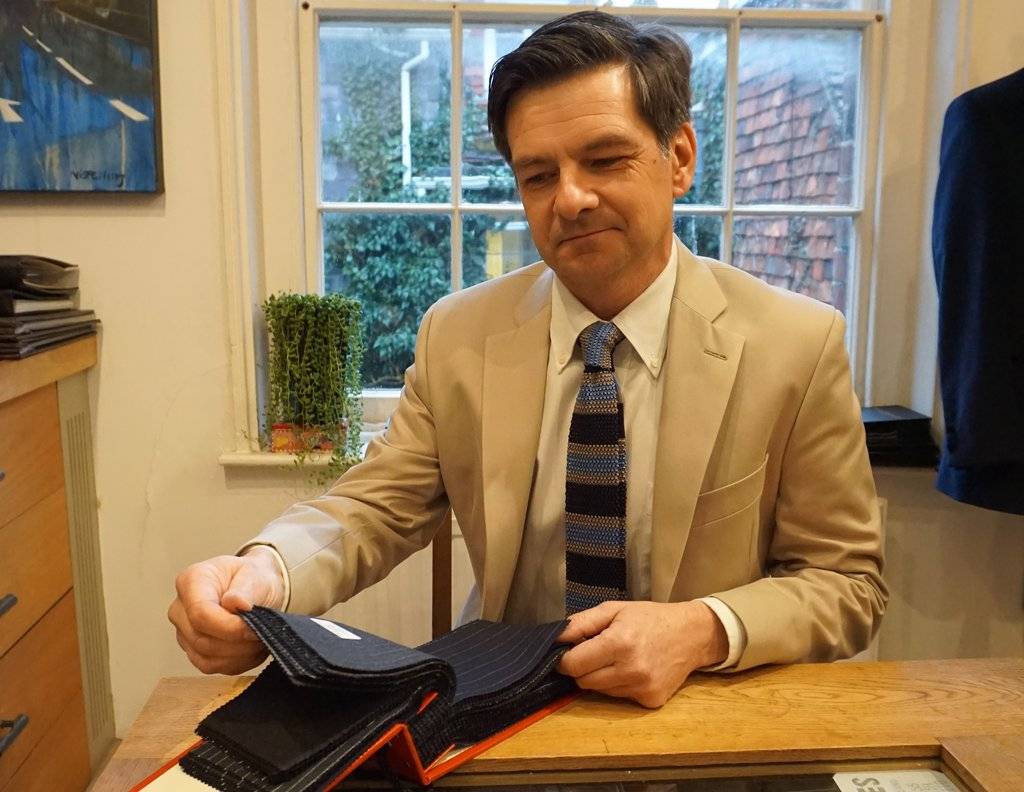 Regent specializes in spanning the divide between traditional business suits and classic countryside attire. We a have a wealth of knowledge in both areas, as well as a keen sense of tradition to anchor our contemporary cutting-edge designs.
A business suit, as an expression of elegance and professionalism, remains essential for the boardroom, interview or presentation, helping to make an important and memorable impression. The cloth of the suit needs to be durable in order to match the rigours of the day and extensive travel, but comfortable for regular use.

A country suit must provide warmth and comfort in a practical and elegant style. Tweed jackets offer a great deal of versatility and provide a quintessentially British smart-casual look, especially when worn with chinos or jeans. A heavyweight Shoot Coat can fend off the worst of the weather. Regent has produced bespoke garments for several country and shooting estates: we're therefore able to combine our expertise with a vast range of traditional tweeds to provide customers with something unique for the shooting season.

We also have a range of experience with military suiting, and are able to help in this area if a customer requires. We offer a discount to local military members.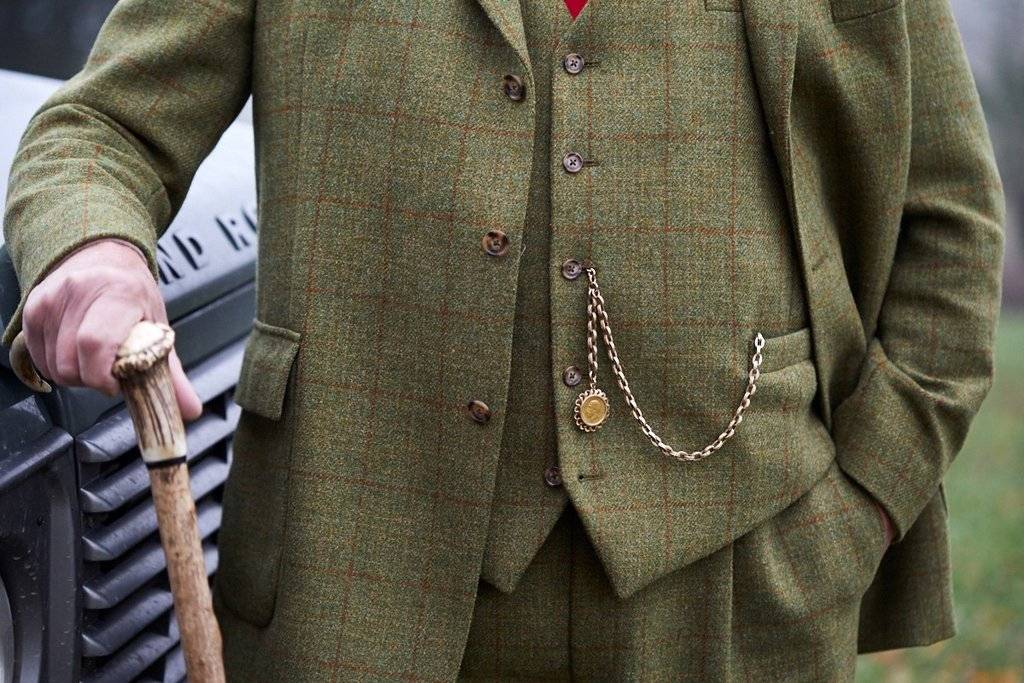 To ensure the longevity of your suits, rotate them throughout the week for even wear. Try not to wear the same suit two days in a row. At the end of the day, hang the suit on a suitably thick hanger; this will allow it to breathe and return to its shape. Create a wardrobe that has a combination of heavier winter suits and lighter summer suits.
Consider buying a second pair of trousers for your suit as this will inevitably be the item that gets worn out the most and when removing your jacket in the office or in the car. When you do remove your jacket, be sure to hang it appropriately. Don't be afraid to unpick the stitching across the pockets of your jacket, but do keep contents to a minimum so you don't distort the pocket shape.
When it comes to cleaning, have your suits dry-cleaned as few times as possible. Dry-cleaning weakens the fibre in the cloth. Instead, brush any dirt with a good quality clothes brush and use non-scented baby wipes to remove spot stains. To remove persistent creases, hang the suit in the bathroom and use the steam from a hot bath or shower to allow the creases to drop out. To retain the crease in trousers, steam press with a low-heat iron placing a cloth between to prevent the fabric underneath from becoming shiny.
When buying a suit, consider its purpose, as well as what other occasional uses it might have. Will it be worn regularly at the office and rarely at formal occasions? Do you specifically want a suit for days out in the country, or for evenings and parties? Thinking about the use of your suit will dictate choices regarding its cloth, colour and other style options, so it is important to have this clear in your mind to get the best from your wardrobe.

At Regent we're not necessarily sticklers for rules, but when it comes to style, there are some basic guidelines that can guarantee a good fit and a great look:
The shoulders of a jacket are crucial. These can't be altered at a later date without affecting the structure of the jacket, so make sure that the shoulder-pads do not extend pass the shoulder. The jacket collar should allow half an inch of shirt to rise above it, and be resting flat. There should be no ruching between the shoulder blades or any collar gap. You should be able to fit your fist between your chest and the front of your jacket comfortably.

Hem and sleeve length are another indicator of a good-fitting jacket. The bottom hem should be at the same level as your knuckles, so that when you place your hands down by your side the base of the jacket rests in your curled-up palm. The sleeve should reach the wrist bone, with half an inch of shirt cuff visible.
For a smarter silhouette it's best to choose side adjusters to tighten or let out the waist:belt loops are appropriate for casual trousers though, of course, with our bespoke service you can choose whichever style you feel most comfortable with. Flat-fronted trousers are usually a favourite amongst Savile Row tailors but pleats can flatter a larger frame, as well as providing a modern twist when styled with a slimmer leg.

Trouser length depends on your width as well as your personal preference. A shorter hem, typically favoured by those who prefer a more traditional cut to prevent it swinging around the ankle, now have become the latest fashion inspiration, with shorter trousers and rolled up hems proving equally popular. Whilst we would recommend having the hem angled towards the back to prevent too much of a break at the front, turn-ups need to have a straight bottom so that they sit flat on top of the shoe.
As well as being uncomfortable, a too-tight collar is also an instant give-away of a poorly fitting shirt. Ensure that you can fit a finger between your neck and the collar for comfort. Another common mistake is to go for a shirt that has an excess of fabric across the torso. A narrower cut across the chest and stomach, with seams that finish at the end of your shoulders, will provide a much better silhouette.

For short sleeve shirts, make sure to keep the sleeve narrow, which creates a smarter and more contemporary look that crosses over from work to casual, evening-time attire. For the ultimate shirt, we recommend a Kent collar, single cuff sleeve, double gusset for the front with a butterfly gusset on the side to create a narrow fit that isn't too tight. See our Regent shirt range [hyperlink to Shirts] for a dazzling array that fit these specs.