Regent has access to a wide range of cloths from the best mills around the world for both our ready-to-wear and semi-bespoke services. Lots of these mills are British, allowing us to keep our business as local as possible. Our favourite British cloth merchants include Dugdale Bros, LBD Harrisons, Holland and Sherry, Lovat Mill and Bateman Ogden. We also have access to a range of other cloths from further afield, such as Reda, Drago and Vitale Barberis Canonico. Each of these names brings something different to the table, ensuring Regent have a wide-ranging selection to satisfy everyone's needs.
Perhaps our most frequented cloth supplier is Dugdale Bros, who supply the majority of cloths for our ready-to-wear suiting. Quintessentially English in their styling, Dugdale have an enormous range of classically-styled cloths, from pinstripes and chalkstripes to Prince of Wales checks, birdseyes and herringbones, as well as the classic cloth used to make our heritage 'Ian' and 'Gray' suits. Based in Huddersfield, Dugdale have been operating for over a century, supplying their high-quality cloths to tailoring establishments all over the world.


As we work with a lot of country-based clients, a good tweed supplier is an absolute must: fortunately, Regent has a relationship with one of the best. Lovat Mill, based in Hawick, Scotland make tweeds of astounding durability in a huge range of colours, checks, weights and patterns. The mill also produces bespoke tweeds for shooting estates and military regiments, exact to the specifications of the buyer. Lovat Mill offer a unique ability to Teflon coat their tweeds, making them and the garments they're made into far more weather resistant, whilst not compromising on the traditional tweed look or feel.

When a customer comes to us looking for something a bit more luxurious, we usually head to one of two places: Holland and Sherry or Harrisons of Edinburgh. Based in the home of tailoring, Savile Row, Holland and Sherry have a range of beautiful cloths, including ultra-soft cashmeres, super-fine worsted wools as well as silks, velvets and just about every other luxury cloth which springs to mind. Another very British cloth merchant, Holland and Sherry's products encompass just about everything, from classic city suiting to dandy checks and stripes in every hue imaginable.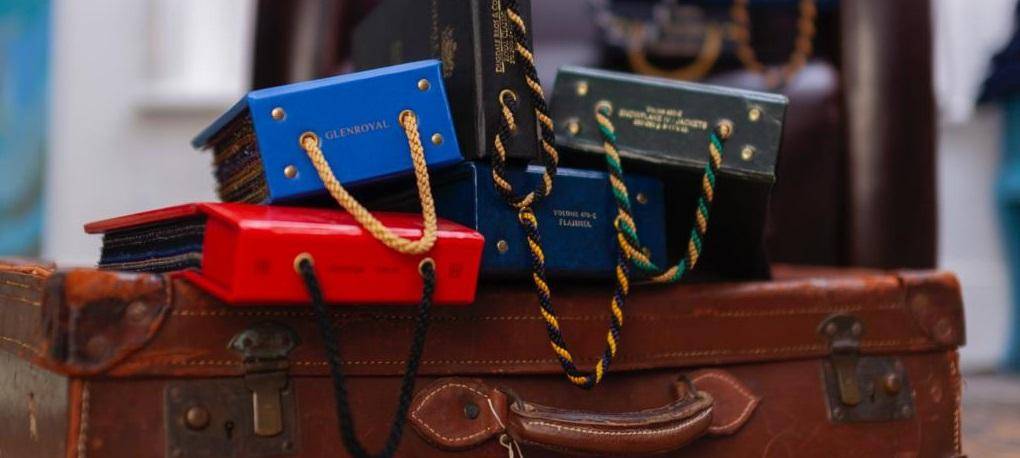 A lot of the terminology surrounding cloth, in particular suiting cloth can be very confusing, a different dialect comprising of language like'super 120s' 'worsted' 'high twist' and 'g/m2' below is a glossary of sorts, with the aim of clarifying some of these terms.
High Twist
– a process with the aim of reducing the amount of creasing in a fabric and strengthening the fabric. A high twist fabric is made from a warp and weft thread, which is in itself made up of multiple threads twisted together.
Warp and Weft – Cloth is made up of two threads, being woven in between each other, the weft is the static threads, where as the warp is woven in between the weft.

Super Numbers – Super numbers (super 110s, super 150s etc) refer to the fineness of the wool fibres used to make the cloth. The finer the fibres are, the softer the suit will feel. However, this comes with a trade-off for durability, as softer fibres are usually a lot more delicate and are also more difficult to tailor.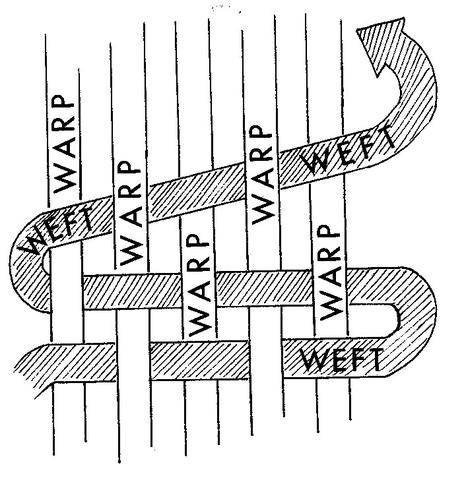 G/M2 – Perhaps an obvious one, the Gm2 tells us the weight of the cloth. Generally for suiting, you'd want to look at cloths between 280 and 450 gm2 although it's possible to go heavier or lighter if you'll be in a particularly cold or warm climate.

Worsted – A worsted wool cloth is made from wool which has undergone a process which forces all of the wool fibres to lay parallel, these fibres are then combed, removing all the short fibres and retaining the longer ones. This results in a strong, soft fabric, perfect to tailor.