Joseph Cheaney X Regent: Shoes with a Twist on Tradition
Posted by on
Joseph Cheaney X Regent: Shoes with a Twist on Tradition
Heritage UK shoemaker Joseph Cheaney is known to be one of the best in the universe. Their collaboration with Regent has produced a series of unique footwear that walks the line between tradition and originality. Step inside a whole new world of shoes...
Joseph Cheaney has been soleing British feet since 1886: that's over a hundred years of accrued expertise. They are, quite simply, one of the best shoemakers in the world. Why? Because of their knowledge, craft and ethos.
That one hundred years of expertise means Cheaney has refined and refined what it takes to make a perfect shoe. Their lasts - the term for the moulds used to make a shoe, coming from the old English word laest, meaning footprint - have been carefully tweaked across the years to prove as comfortable as possible for the different foot types they cater for.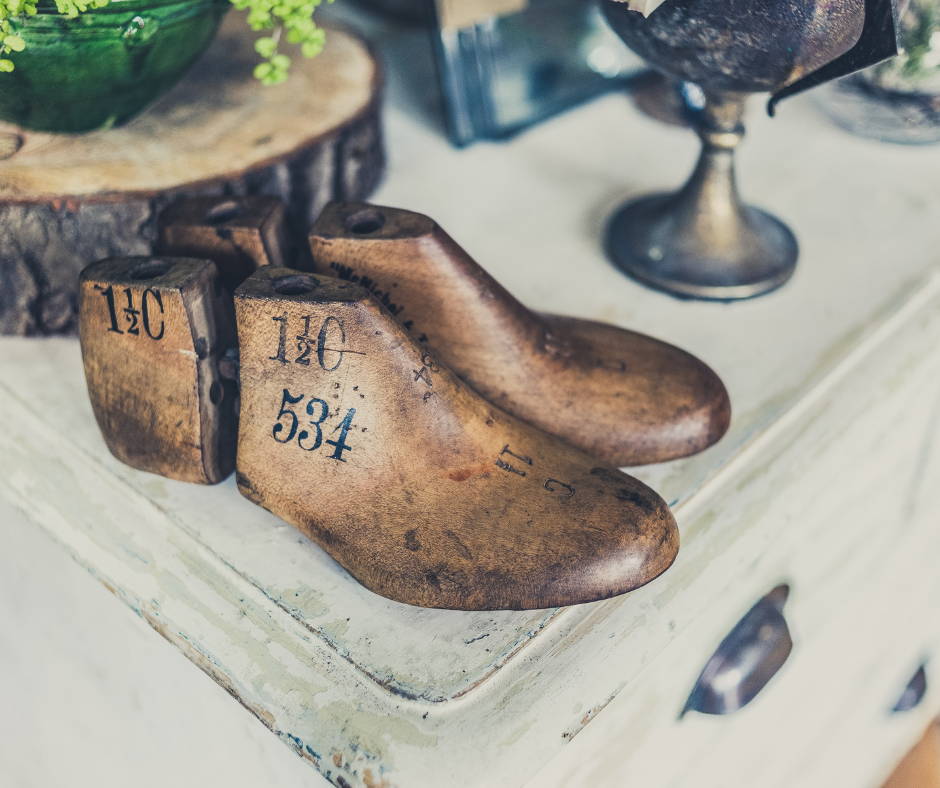 Their craft is evident in the fact that every shoe is still handmade in Northampton, UK. Every single Cheaney shoe has had the hand of the master assembling it, and the eye of the master approving it.
Of course, the factory houses machines to help with things like the 'clicking' (the cutting out of the leather) and the final polishing, but there is someone along the way who cuts, glues, assembles, stitches: there is real love gone into each pair. This is important when one shoe can contain up to twenty separate pieces of leather!
Something we love about Cheaney is that their shoes are completely built to last: an investment in Cheaney-quality shoes is an investment for a lifetime. This is thanks to the Goodyear welt, which means a shoe can be soled and re-soled, time and again, so you'll never have to chuck away your favourite pair. Plus, the more a Goodyear welted shoe is worn, the comfier it gets, thanks to the leather insole being able to adapt and mould to the shape of the wearer's foot.
These shoes also feature incredible soles like Dainite or Vibram. The Dainite studded rubber sole is designed to provide comfort and grip in all conditions without holding onto dirt and still having a smart appearance. Vibram soles, designed by Vitale Bramani, a mountain climber in search of a rubber sole that could withstand anything back in the 1930s, are iconic and supremely durable. There's nothing you can do to break it down or wear it, meaning it'll give you absorption, grip and comfort for a lifetime.
Two's a Pair: Regent Collaboration
When Regent started out as an independent tailor in Salisbury, England, Jason Regent wanted to offer shoes that were worthy of the suits he aspired to craft. He also knew he wanted English-made goods, to help reduce his carbon footprint. So he knew there was only one place to go that could match his aspirations.
Jason ended up making a suit for William Church, one of the co-owners of the Cheaney business, and so a friendship and a partnership was born. To this day, Regent is the only store in Salisbury that stocks Cheaney shoes.
Jason knew he wanted the quality, expertise and craftsmanship that Cheaney had to offer, but that when it came to design, he had some ideas of his own that he wanted to try out. So began the great collaboration, where Regent took some of his favourite traditional shoe styles and designs and gave them each a little twist.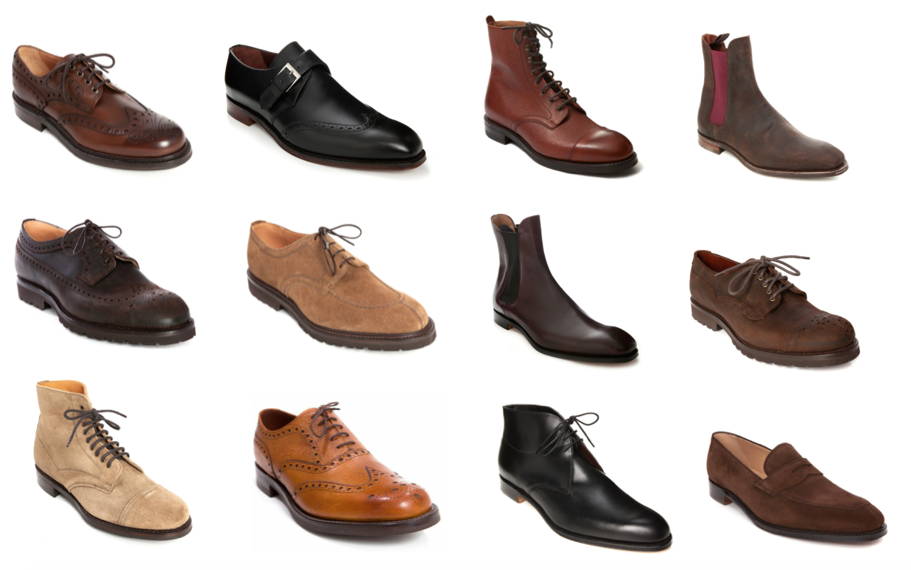 Here are eight highlights from the Regent X Cheaney collaboration: eight unique shoes that have been modified by Mr Regent himself to create something specified, useful and totally original.
It all started for Mr Regent with the Romany. The story goes that Jason was wearing an old pair of Chelsea boots – enormously popular amongst riders thanks to their support, sturdiness and sleek style – when he got the chance to ride Romany King, the winner of the Grand National champion, and had trouble getting a foot out of the stirrup. The shoe looked great, but wasn't quite doing the trick, so Jason went away and perfected the design, giving the boot a higher neck, resulting in a unique, distinct twist on the famous boot that still has heads turning today.
Also available in Burgundy Leather.
This swish brogue was designed with denim in mind: Jason wanted something that seemed smart but sat well with a pair of jeans, and created the Denman, with it's distinct unique pale orange hue, to go with your favourite Edwins. The brogueing is also wider than usual, to give off a more smart-casual, rugged feel that goes better with a pair of jeans.
An exquisite suede shoe with Vibram Gumlite sole and buckshot feature patterning, resulting in a sturdy, stylish and unique piece of footwear. The suede is rough-aged and wax-impregnated for a timeless but highly durable and reliable material. The toe features 'buckshot' styling - random punching to simulate shotgun fire, achieved by high-tech computer analyst driven cutting tables - leaving a unique, playful and intricate finish. The sole is extremely durable and reliable whilst remaining lightweight: the shoe is spectacularly sturdy, ready for all kinds of weather and occasions. Named after the eponymous hero of the timeless space opera, this shoe has all the style, dashing adventurousness and rugged charm as its namesake.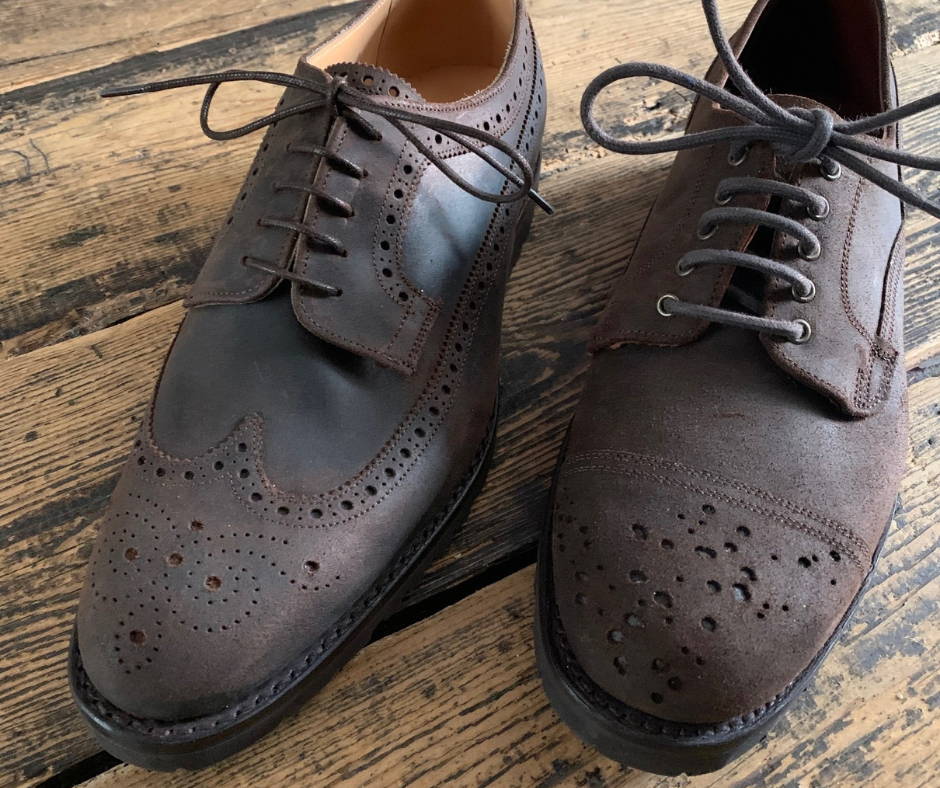 This is a straight-up Regent-styled hybrid between a badger and desert boot, giving all the sturdiness and support of the former with all the suave stream-line stylings of the latter. Finished by the strip of darker, conker suede at the back, these boots even look a bit like their creaturely namesake. These are the ultimate versatile shoe - great with suits, jeans and chinos alike. That's why Jason made 'em - to go all round.
The Henry George sports a split-toe construction, originally designed to be more waterproof (it's all about the way the split was tethered to the sole) and became renowned for their ability to fit a penny in the split, as an added bonus. Regent added the suede composition here, so that the shoe could sit well as a smarter pair under narrower-fitting trousers.
The Frank is surely the most streamlined boot you'll ever meet. A very popular design, the Frank is so loved because of its neat, slim silhouette, meaning you can wear a boot-like shoe under a suit, or slim-fitting trousers, and retain the silhouette. The navy suede was incorporated to reflect it's smart stylings: the Frank is truly a hybrid of the smart-casual.
It's all about the unique long wings on the lace here that sets the Clive apart from other brogues. The long wings add flair, distinction and a bit of formality: they seem kind of old fashioned, and thus add a great smart mod-ish flair when paired with jeans. For the distinguished gentleman, the oddball, the quirky go-getter.

This one's for the aficionados: one of Jason's most distinctive, prized creations. Echoing the boots worn by officers in the first world war, the Jason features burnished steel hooked eyelets and an Oxford toe cap, taking inspiration from the archive of famous shoemaker John Lobb. Though they look intense, they are crafted from a grained calf leather upper in rich mahogany, and feature a buttery soft tan leather lining, meaning you're sure to find comfort and support from the first wear.
Regent have a pair of shoes that will be perfect for any event. All Regent shoes are made in Northamptonshire, the home of British shoe making. For a further range of formal, and country shoes, Regent stock Joseph Cheaney who are known for the sublime quality and English manufacturing of their shoes - for a classic pair of Oxfords look no further than the Joseph Cheaney Lime. Completing the range is Red Wing, the American workwear shoe and boot company.

---