Manufacturing Spotlight: Made in Japan
Posted by on
It's time for the Tokyo Olympics - finally! Time to collapse on the sofa and watch other people pull off incredible feats.
We've written a blog about what Made in Japan means in the fashion biz today, and introducing you to three ace brands that carry Japanese style, culture and ethics at their heart.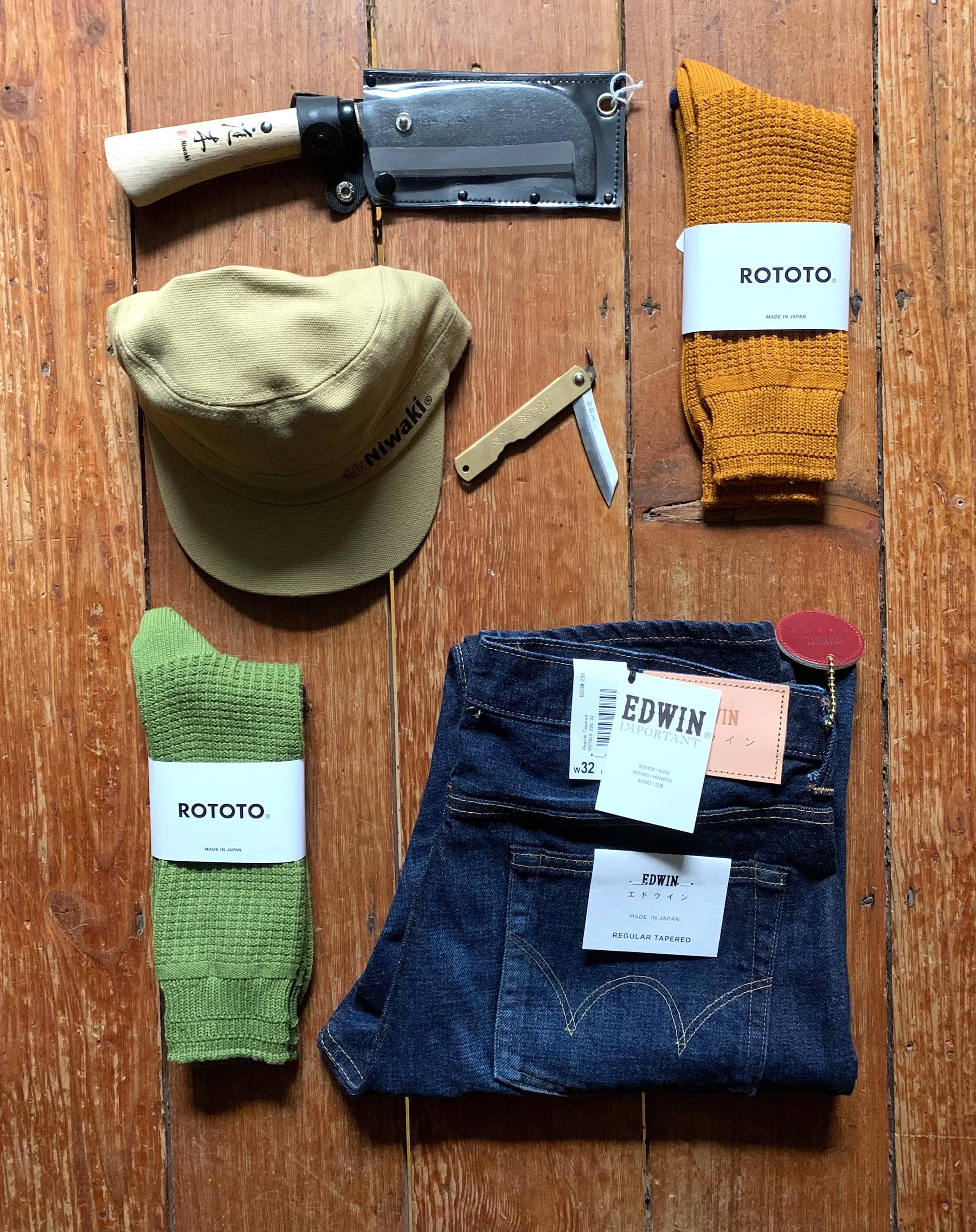 What does the phrase 'Made in Japan' signify to you? For a long time, this phrase has been a signifier of supreme quality on many of our most beloved items. The intersection between Japanese style and manufacturing methods in the fashion industry has constantly been held in great renown, and for good reason.
Fashion garments that are made in Japan today are being crafted with a care, skill and sustainability that is becoming less and less commonly found around the world. Buying 'Made in Japan' is increasingly synonymous with a hallmark of skill and craftsmanship that ensures a lovingly and expertly-made garment in an industry where mass production is lowering standards everywhere.
In this blog, we'll introduce you to three beautiful contemporary brands whose products are made in Japan and which hold traditional Japanese techniques of craftsmanship at their core. We're proud to have worked with these brands for a long while now, and look forward to giving you the lowdown on the ways their garments stand out from the crowd.
Edwin: Innovative Japanese Denim
Our first Made in Japan brand hardly needs any introduction. Edwin is practically synonymous with the fusion between Western style and Japanese workwear.
Edwin has been going since 1947, which is also around the time, in the post-war years, that the 'Made in Japan' stamp became such a seal of approval. It's founder, Tsunemi Yonehachi, was one of the first people to begin importing used denim from the United States back to Japan, where clothing was hard to come by after the war.
It's this mixture - traditional US looks re-worked and filtered through a Japanese lens - that has bought Edwin such international renown. They're also well regarded as innovators in their field, having pioneered certain denim washing techniques that are now used the world over.
These include the ONE WASH technique, which helps prevent future garment shrinkage upon washing, and OLD WASH, the godfather of the popular stone wash technique, where stones such as pumice are included in the cycle process to carefully fade colours using gentle abrasion.
Edwin offers such a brilliant range of cuts to their jeans, and we love the fact that these cuts are both so singular and so reliable, rolled out in such a dazzling range. From the good old ED-39 regular fit, with regular rise and a straight leg, to the ED-45 and its loose-tapered fit that tapers back in again toward the leg, you've got such a wonderful range of styles on offer with Edwin, you'll never need to look elsewhere for your jeans.
Check out our range of Edwin jeans - as well as their hyper-cool shirts, jackets and t-shirts, each graphic-printed with unique Japanese-inspired lettering or styling - and ask Jason for more information about the various jean styles on offer, such as the ED-55, the ED-32 and Edwin's chino range too.
Edwin also has a fabric guide you can check out for more detail on the ways their denim is sourced, washed and processed.



Niwaki: Bringing Japanese Gardening to Britain
In 1999, Jake went to Japan to investigate the cultural phenomenon of hanami, the cherry blossom season. When he came back, he'd had his mind opened to the wonders of Japanese gardening culture.
Beginning with tripod ladders and garden secateurs and blossoming into an incredible range of Japanese gardenware tools such as the Hori Hori, the Hashitsuki Nata and the Kanekoma Higonokami, Niwaki, based in the beautiful Dorset town of Shaftesbury, has bought the precision, rigour and aesthetic splendour of Japanese tools to Great Britain.
There is something inherent in each of Niwaki's products - a respect and a cherishing of the natural materials used to make the tools themselves - that gives each one a distinct personality. Everything is uniquely designed and carefully thought out: designed for specific aspects of gardening which require more than just a one-size-fits-all approach. These are tools that make you think 'finally, someone's thought of that'...
We love Niwaki for their specific sense of robust craftsmanship and aestheticism, and are eternally grateful to Jake for bringing back and sharing that distinct relationship and respect for the natural world that Japanese gardeners display with their immaculate, beautiful landscapes.



Ro To To: Socks from the Land of the Rising Sun
It's a well-known fact that fast fashion is ruining our planet. Poorly and cheaply made garments flood the high street, fit to be worn for a few months before they start giving, fraying, breaking and wearing. Luckily, many brands have set out to change this. RoToTo is just one such brand.
Actually, the concept of 'lifelong consumables' is already a prevalent part of Japanese culture. Based in Nara prefecture, an area well-known for its longstanding involvement in the clothing and textiles industry, the RoToTo makers craft their socks using a mixture of old-fashioned techniques - to create beautifully, robustly constructed socks - paired with contemporary techniques to ensure sustainability. These techniques include real human input: things aren't just delegated to knitting machines.
All RoToTo's socks have a distinct look - ranging from their exquisite old-school style to some beautiful tie-dye pattern numbers - and are made from genuinely robust crew cotton. We love their socks with rolled hems for a real slice of old-fashioned comfort. Their basketball socks are also a wonderful way to spice up an outfit, looking great poking out above a pair of trainers.
We're proud to stock this authentic Japanese brand: cotton onto them before the rest of the world do, and stay ahead of the pack!
Something piqued your interest?
Let us know if you want any more info on anything you've read here, or if there's a product from one of these brands you want to enquire about - we can get something in stock for you if you're after something in particular.
---