Going Against the Mainstream: The Regent Shirt
Posted by on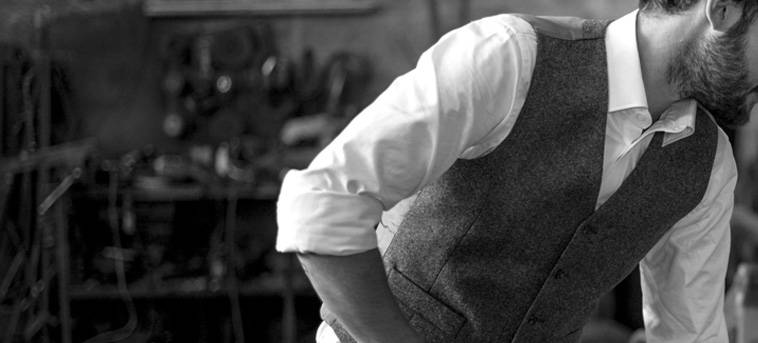 There's nothing like a beautiful shirt. Paired with the perfect tie, it's the true foundation of your outfit, and is so often under-sung and under-examined. How can this be, when our shirts are the second skins between us and the world: the garment that keeps us guarded, grounded and at ease whilst putting out a statement about who we are? Time and again, folk compromise with bland, high-street garments, cut for some average person that's never actually existed, with the resulting effect that everyone looks slightly out of sorts. It's long been time to say no to that bland average. And that's where the Regent shirt story started.
Liquid error: product form must be given a product
Liquid error: product form must be given a product
Liquid error: product form must be given a product
Liquid error: product form must be given a product
It's safe to say that any shirt you buy from us won't be your average fare. In fact, the story of the Regent shirt is one that's defined by a refusal of mainstream taste and protocol. When Jason Regent started up his dream business fifteen years ago, he decided that he wanted people to dress how he knew they secretly wanted to. But around 2004, there was a still hangover-style from the 90's: everything was baggier, more blockily cut. When Jason sent his design through to the manufacturers, they even asked him, are you sure? are you 100% about this? because to put forward a shirt that was designed on the basis that it would look and feel, as closely as possible, fully tailored, was totally against the mainstream at the time. Jason persisted, basing the Regent shirt off his own actual tailoring experience, working off the hunch that people might actually prefer to take the leap and style themselves in a narrower, well-built fit if they had the option to. He wanted to offer a product that looked like it had been made for the customer, not that they had to neutralise and ignore their bodies within. Fifteen years later, we still cut them on the same block, and – excluding variances of tolerance between shirts and fabrics – they're the same as they were.
Liquid error: product form must be given a product
We're very proud to say that the Regent shirt now has an ardent following, offering an incredible look and fit with all the feel of a made-to-measure garment at an affordable price. All our shirts are made from proper, old-fashioned shirting materials such as cotton, twill and poplin: indeed, it's keeping the spirit of the old-fashioned, classic gentleman alive that's what kept Jason pushing for the perfect design. This is where Regent surfs the cutting-edge of fashion by renovating styles like the Bengal Stripe or the King Collar for a new generation, reminding them of the merit and the wisdom of older ones.
Regent follows the rules where they're crucial, though: our DJ shirt is exactly how a DJ shirt should be: cuff, collar and bib are made with Marcella, a cloth renowned for its singular, vivid weave and natural stiffness, to endow its working parts with that extra sense of uniqueness and evident attention to exceptional design, whilst the cuff is double-button and the texture, incredible. All other Regent shirts have single cuffs: this is because we understand what it's like to want to stretch and move about freely in your suit, and a single cuff slides far better under a jacket. They're also excellent for rolling up easily, allowing you that freedom at the end of the day (indeed, throughout it): a shirt should carry you right through from morning to evening, and a rollable cuff allows the shirt to be eased up, transferred out of a suit and into a pair of jeans, still looking excellent. That's the aspiration with every Regent shirt – that you can wear it both with a suit and a pair of jeans and just feel well-looked-after, safe that you're looking your best and still feeling comfortable.
Composition-wise, all Regent shirts (apart from our dashing King) have a Kent collar. Our Oxford Range are button-down, inspired directly by Brooks Brothers of New York, who know their stuff when it comes to Ivy League chic. We avoid breast pockets because often they're only hidden and clunky behind a suit. The tail (back hem) is longer, so there's a little more to tuck in, meaning you get a better stretch and ease of movement in your garment without constantly having to re-adjust it. There's also a butterfly gusset for comfort and ease at the hips. Finally, all our buttons are real mother-of-pearl: that iconic look that puts the glint and gleam on a proper shirt. Whilst mother-of-pearl is a more fallible material than plastic, we stick by it, believing it better to have to repair or re-sew a button now and then and keep true quality and shirt pizzazz.
So, there you have it: the story of a shirt created by an actual tailor, based upon real tailoring experience and designed for people who always dreamt but never knew it was possible to find a shirt like this. If you prefer a slightly fuller cut, we often advise buying just a half-size up for a Regent shirt, so you can maintain a bit more room. Don't forget, we also offer a made-to-measure service if you're of a particular size or inclination, or are looking to treat yourself to the ultimate luxury… pop your details in the contact form below to begin the adventure. And finally, don't forget our unbeatable range of ties to finish off your shirt. We have a carefully curated and dazzling selection, and there is, genuinely, something for everyone there.
---