HOW THE REGENT SHOP WILL RUN POST LOCKDOWN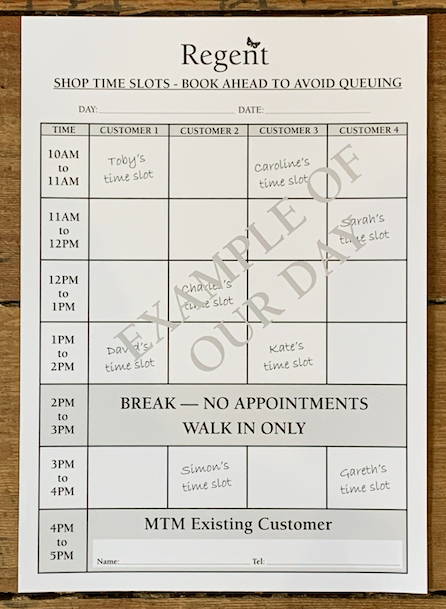 Our new opening hours are from 10AM - 5PM, Monday to Saturday.
Between the hours of 10AM–2PM, and from 3–5PM, the shop will be available to browse for walk-ins and also in hourly bookable slots: there will be 4 slots per hour (see the image below). From 2–3PM the shop will be open to browse without any appointments. You can still come by the shop at any point during our opening hours and see if we have space free for you, even if you haven't booked in advance, but do bear in mind you might have to queue, and there might not be space.
Booking a Browsing Slot or an Appointment
If you're keen to get the time, space and care you need whilst shopping, book ahead in plenty of time and make an appointment with us, no matter how small or particular the item you'd like to shop for. This will help you avoid queuing, and you can make your visit more expedient by ringing ahead and telling us what kinds of things you're looking for: we can even assemble a rail of curated items based on what you're after. We advise anyone coming from a distance to book a slot with us. We also offer a click and collect service: if you're worried about shopping, browse all our stock online at the Regent website and collect your purchase from our front doorstep. Email Jason on jason@regenttailoring.co.uk for any advice on fit and sizing. You can also book a virtual appointment with Jason, in which he can show you products via video link - email Jason to find out more.
Jason will soon be accepting existing Bespoke and Made-to-Measure customers again, but won't be accepting new Bespoke customers until further notice. Existing customers should book an appointment via Jason.
When in the shop, please use your common sense and respect the social distancing rules. There will be a rope up at the front, and Jason will let you in when a new space has opened up. Try not to handle too many products if you're not interested in trying them on. We're taking every precaution to keep the shop extremely safe for our customers. There'll be hand sanitiser upon entry and exit, all our staff will have their own items of equipment, and we will be cleaning the shop down thoroughly at the end of each day. If we all use our common sense, stay friendly, and communicate with each other, we'll get through this strange time in style. For the best and safest way to shop, we still highly recommend using our website and collecting your purchase from our door, or booking an appointment via email at jason@regenttailoring.co.uk.