MR REGENT'S TOP GUIDE TO GIFTS THIS CHRISTMAS
Posted by on
Be it gifts for him, gifts for her, stocking fillers, little gestures or big surprises, Jason and the Regent Team have you covered this Christmas. Check out the Regent guide to Christmas Gifts for inspiration: from socks and scarves to candles, gardening and gent's grooming, there's something for even the trickiest xmas present conundrum.
Hi all, Jason Regent here –
What a year it's been!
Everyone's understandably excited about Christmas because it's the first proper excuse to celebrate we've had since March.
I say: let's do it! Let's go big and gift generously this year because, after the crazy and difficult times we've been through, we all deserve to give and receive a bit of love.
I wanted to give great Christmas gifts this year to say thanks to family who've put up with me during lockdown, and to friends who've been so loyal and supportive. It was with this in mind that I decided to form my special Regent Christmas Gift List for Top Tips and Xmas Inspiration, to help out anyone who wants to give that something-special, but is scratching their heads over exactly what that should be.
So, sit back, relax and scroll down, because here you'll find something for everyone: gifts for him and her, for young and old, for classic and quirky types alike. Let's go! Ho-ho-ho!
The Regent Website – as well as our store in Salisbury – is a Men's mini-department store, it's jam packed with gifts for him in all shapes and sizes.
I wanted to single out a couple of gents grooming brands that I think make excellent gifts.Dapper Dan do awesome hair products with amazing holds and great fragrances: their High Hold Low Shine matte paste is a winner for all hair types, and great for any gent who likes to coif in the mornings.
Or, if you're in the game for spicing up the scent of your loved one, get him a classic, regal fragrance from Truefitt & Hill. These guys have been making cologne for centuries, and they do it the best. Sandalwood is timeless, and Freshman is also a great traditional scent, too.
There are a few fail-safes when it comes to Christmas presents for her. A scented candle is a sure-fire hit and a great way to unwind and thrive despite the winter: Connock and our new favourite brand Norfolk Natural Living have some awesome and unique scents, like lavender and rose. If you're after something off the beaten track for a style-savvy loved one, try Elizabeth Walker's Style Book – it's a fascinating trip through fashion history. Our Ladies Shop should have you covered for anything classic, from hats, gloves and scarves through to cashmere jumpers andjeans – there are some safe bets in there for any style preference.
For classic, tradition-with-a-twist, and timeless, you've come to the right place: Regent specialise in the perfect xmas gifts of all shapes and sizes, plus you have the added benefit of knowing all our stuff is unique, independent, amazing quality and unlike anything you'll find on the High Street. When it comes to winter warmers, I'd say you've got to try a Fjällräven or a RoToTo beanie, and pair it with a Regent scarf – our range is unbeatable, I promise you. From plain to dogtooth to some beautiful patchwork and Rothko-esque numbers, there's a scarf for everyone there – all made in Italy to the finest degree. A real luxury gift.
We're very fond of Hestra if you're after a pair of gloves to get your giftee through the bleak midwinter. They're unique: so well made and so snug! Socks, well, there's Pantherella's regal tootsie-warmers and RoToTo's highly trendy old-schoolers, but we'd say – whisper it – that the Regent Sock range is second to none.
We've also got ties and cufflinks for Dad, watches and wallets for brothers, belts for everyone. Our Regent Argentinian Polo Belts straddle the perfect line between quirky and classic when it comes to pushing the boat out with a present. And lastly a different hankie or bandana for every sneeze of the year.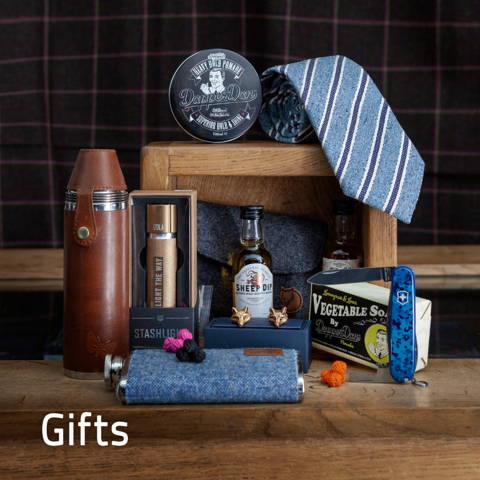 Unique Gifts (Off The Beaten Track)
If you're shopping for someone who loves the great outdoors, I'd point you towards our Outdoor & Adventure collection: but if you're looking to go off the beaten track in a more metaphorical sense and gift something a bit more individual and a bit quirky, check these out: Jim-Bob-Art do awesome, fun and characterful kitchenware, all made by our local and immensely talented artist James Ward.
Falcon do awesome old-fashioned enamel teapots: great for a young trendy couple who're moving in or renting together.
For that person who loves their dog more than anything: take a peek at our unique Regent Dog Collars – these are a popular choice and fly off the shelves at Christmas.
And for the people who are just too difficult, I say: give 'em the gift of a warm brew (it's a guaranteed cheer-er-upper!) with a Stanley Flask or Travel Mug. Honestly, these guys are the real deal, and they always, always prove useful, thoughtful and unique to even the trickiest giftees.
Gifts for Stockings & Small Gestures
Two brands spring to mind when I think of stocking fillers and token gestures: Nite-Ize and Men's Society.
The latter offer such a cool range of stuff for guys of all ages: I love their Bear Head Bottle Opener, and they've got great little kits for golf fanatics, wilderness explorers and moustache fiends. The perfect gesture.
Meanwhile, Nite-Ize offer a great range of nifty tools for the practical gent in your life: I guarantee you they've got something that'll make him say 'now that's useful'…
Santa baby, take some clippers and tidy up that tree, for me… is that how the song goes? Well, if it is, Niwaki are the ones who've got you covered.
They do clippers, snips, shears, trowels and gloves for that green-fingered fiend in your life. Great for grannies, in-laws and aspiring millennial homeowners, too.
Pack up 2020's troubles in a new kit bag, ideally one that's as equally stylish and practical as Fjallraven's iconic range (a great gift for a daughter, sister or girlfriend – showing that you're very on-trend) or Millican's numerous travel companions (a great gift for anyone, really – these are unisex, eco-friendly and ready to last a lifetime).
I hunt high and low every year for the coolest new brands around, so I'd feel remiss to not mention some of my favourite new finds.
Edwin have a wicked series of Overshirts and jackets alongside their world-class jeans if you're looking to gift something super-on-trend. Portuguese Flannel have a wonderful selections of shirts that are quietly dazzling, playful and so comfy: a great safe gift for him, and one he'll love and wear every day.
Bonsoir do super-cosy pyjamas, for a classic snuggly xmas present. And Filson's range of rugged, stylish outdoor wear make a great gift to dress your fella in and spruce him up with a bit of woodsman-chic. (Note: make sure he can grow the beard to go with it!)
Finally, check out Peregrine's excellent new additions to the Overshirt canon: the Hixton and the Wool Blanket Shirt. These make excellent gifts for any and every type of man: robust, well-fitting and timelessly stylish, no matter what age you are. Take it from me: this'd be just as great a gift to get a dad or husband as it would a son: Peregrine crosses the divide.
If you're still searching for that perfect gift for him, our curated Contemporary Casualwear range should satisfy any curiosity when it comes to what's on trend and good-to-gift this year.
So, there you have it. Hope you've found something you like in here – please do call the shop on 01722 335151 if you've got any questions about fitting, sizing, etc. Or email us suits@regenttailoring.co.uk
If you nipping into the shop also has the added benefit of checking out our bespoke booze range, (which we don't do online) – we're talking unique spirits, biodynamic wines, craft beers and world-class Whiskeys. So – if you're shopping for someone who likes to get merrier than Father Christmas on Xmas eve – do stop by the shop!
---